About (English)
How Rent ( mainland )
Start renting
We will start renting by paying to the rent board installed on the site of the property.
Please wait for the group invitation.
By participating in the group, it is possible to customize the Parcel.
If you do not receive the group invitation or fail to join, please contact us.
Such as buildings and furnitureand are grouped, so you can move, edit, copy and return.
You can extend the remaining rental period according to the amount deposited on the rent board.
* Please do not return all (all returns) as the rent board will be lost.
Rental end
You will be notified with a message when the rental period is less than 7 days.
Rental will end automatically when the remaining period ends.
When you move out, please collect your objects.
If there are any remaining objects, we will return them later.
Remove the members you have added to the group from the group. Then leave the group yourself.
Parcel setting management ( mainland )
All rental properties are owned by the group of "Neko Real Estate"
After joining the group, you can use the following parcel management.
Member
· Invite people to this group
· Ban members from this group
Parcel identification information
· Partition name, description, and "Change Moderate content settings"
· Set landing point and teleport route
Setting up partitions
· Change music and media settings
· Switch various settings in "Land Information"> "Options" tab
· Modify natural environment settings and day cycles
Permission of the parcel
· Always allow "Edit terrain"
· Always allow "flying"
· Always allow "Create Object"
· Ignore the landing point
· Allow "home setting" to group land
· Allow "event hosting" on group-owned land
Access to the block
· Management of partition access list
· Management of block ban list
· Exile and freeze the residents on the block
Partition content
· Returning group owned objects
· Return objects set for group
· Returning non-group objects
· Landscape creation using linden plants
Object management
· Transfer object to group
· Operation (move, copy, modify) group owned object
Shared use in groups
Group members can be added freely.
Members added to the group are given "always create objects" and "home settings" permissions.
Security Available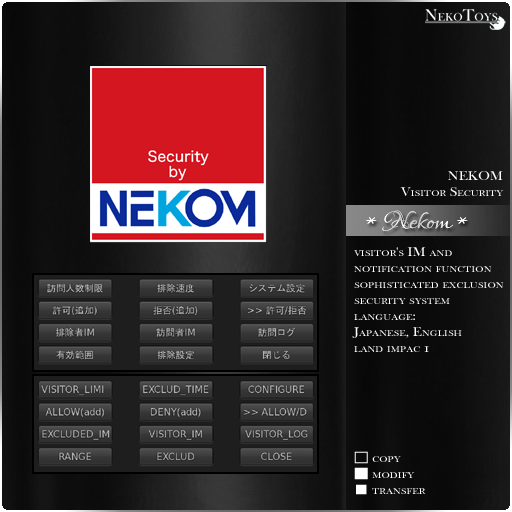 Frequently Asked Questions
Are there restrictions on the use of land?

No limit. You can use it freely.
Do I need to be informed when I move in and when I leave?

It is unnecessary if there are no particular thing you want to check.
Can installed objects be moved or deleted?

Yes. You can return, modify, move objects freely. *Please be careful not to return "rent Board".
Can I move the rent board?

Yes. You can touch the rent board to move it to any position and resize it.
Can I share it with my roommate?

Yes. You can invite a roommate to a group.
Can I move to another property?

Yes. You can move to a new parcel at any time.
Contact Us
All questions, consultations, complaints, retreats, moving out, setting or removing objects, changing partition settings etc.
Please contact us in Second Life world "KuroNeko Deka" or
"here"
Contact@ 黒猫 ( KuroNeko Deka ) [
View Profile
]